COMMUNITY CATALYSTS is a statewide grassroots network of current and former elected officials, community volunteer leaders and constituents.
To educate, engage, and empower constituents to participate in local, regional and state housing policy decisions that preserve the American dream of home ownership and the local control of zoning and land use decisions.
Catalysts Institute
We are pleased to announce the formation of the 
Catalysts Institute.
We now have a non-profit 501(c)(3) organization whose purpose is education, research, networking, outreach and leadership development activities, but is limited in political activity.
Donations to the

 

Catalysts Institute

 

ARE tax deductible.
Consider a donation to Catalysts.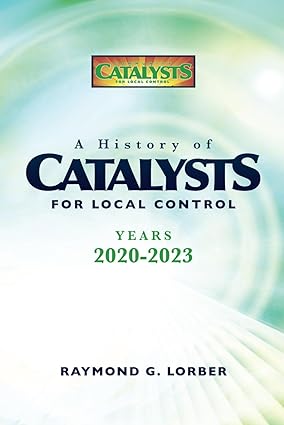 Available NOW on Amazon
A History of Catalysts for Local Control tells the story of how constituents concerned about housing and land use planning are organizing and acting to save their communities. They are saying, "Democracy is ours! We have tools and strategies to protect our neighborhoods and communities against a developer/investor land-grab that fails to deliver on the promise of affordable housing."
Catalysts Call
Mondays
5 – 6 PM
A weekly Zoom call to talk about housing legislation and strategies to preserve local control. Bring your questions and ideas. Informal networking, announcements, and updates.
The Housing Supply Crisis
Watch the Special Catalysts Town Hall video presentation by Marc Verville.